There's a new player in the Houston investment scene and they launched in a big way last Thursday night.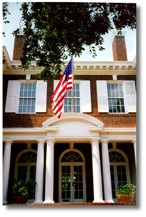 RedHouse hosted a party at their offices at 802 Lovett that featured beer, food, Lemonade Day (they raised $7000 from the party-goers, that was split with a group supporting Navy SEALS), and more beer along with over 300 people from the investment (think bankers and VC's) and technology (think developers, product managers  and service providers), most of whom had worked for the principals of RedHouse at some point in their careers.
RedHouse Associates is an angel investment and consulting firm made up of a tight-knit group of seasoned enterprise software veterans based here in Houston. Their focus is on cloud-based, enterprise companies that are looking to ramp up their existing sales processes. To say that these are "Brand Name" people is a bit of an understatement. Mike Clark and Keith Kreuer have a long history of starting (and more importantly, finishing) enterprise software companies, the most well-known being PentaSafe. The two of them have been privately investing as angels in other companies like BBS Technologies and R1Soft for several years. They are both venture advisors to DFJMercury, the most active early-stage VC firm focused on tech in the Houston and Mid-Continent areas.   Mike and Keith joined forces with their long-time friend Doug Erwin – a man who needs no introduction to those in the Houston technology community. Doug was most recently the CEO of the Planet who engineered several successful mergers before selling the whole consolidated company to SoftLayer in Dallas a few months ago. Doug is widely known as a world-class CEO, who has a career spanning IBM, BMC, RLX, PentaSafe and the Planet in leadership and sales roles. The other two principals are Doug's son Ben Erwin (a successful executive in his own right) and Joseph Horzepa, the General Counsel to many of their portfolio companies.
Back in the height of the PentaSafe days, they would throw legendary beer bashes and crawfish boils every quarter at this location. When PentaSafe merged with NetIQ, they went all out with a beach themed party and flew in The Beach Boys to play for the crowd. The fact that Surge Accelerator is now housed there, along with several of the RedHouse Associates portfolio companies like Eric Elfman's OnIt Software are an indication that this party is one of many more to come, which means that Samantha Vilaysane, the "Ruler of the House" will have the chance to do what she does best – plan awesome parties.
RedHouse is a big deal for the Houston technology community and will fit in very well with the existing infrastructure of HTC, Rice and DFJMercury, while adding a great deal of experience and talent to our ecosystem.